Featured Photo: Greg Hammer (@creolehammer)
By: The Platform Staff
DR7 had another busy weekend in The Woodlands (Tex.), as more than 120 teams came together to see how they stacked up amongst some of the best talent in the state of Texas. This weekend showcased several players making incredible plays, both offensively and defensively, which lead to some highly competitive games throughout this two day event. Platform is here to Expose the Unexposed and here are some of the top standouts from the #RoadToTheCrown The Woodlands (Tex.) Tournament, whose recruiting stock is on the rise.
Maxwell Hendrick | Wide Receiver | Class of 2025 | Klein Cain 
Hendrick is a player continuing to come into his own and his performance this weekend left no doubt that he is a rising offensive prospect in the Class of 2025 in the Houston Area. Maxwell's playmaking ability helped his YMIN squad advance on Sunday in bracket play. Hendrick showed an ability to get by defenders with his sharp route running and he displayed an awareness to find open holes in the defense where his quarterback found him open. Standing at  6'0 170 pounds, he has the frame to add bulk to fill out his build and the more reps he gets, should provide a great opportunity to have a breakout season in 2023.
Nicholas Townsend | Athlete | Class of 2025| Dekaney HS
Townsend is an impressive player off the hoof and he is a two-way player who has the skill set to line up offense or defense. At first glance, he passes the eye test as an elite defender with a broad base standing 6'4 220 pounds and he moves quickly in space with ease. Townsend has good ball skills, as he made several plays with his large hands, to help  his squad, The Storm put up a fight in every contest this weekend. Early on the recruiting trail, he has offers from Texas State and UTSA, but look for Townsend to continue add offers as camp season and spring ball get ramped up.
Romin Seymour | Quarterback | Class of 2026| Manvel HS 
Seymour has received a lot of fanfare in the past several months. With Romin gathering more interest, he has responded by continuing to raise his game to a high level, which came to the surface as he made big plays consistently. Seymour has a big arm, he had a high completion rate on the short to intermediate routes and he puts the football on his receivers in a hurry with his quick release. Seymour has a strong feel for the game and he has the skill set to find the open receiver on any route pattern. He will warrant major attention before it's all said and done. Houston and Texas A&M were the first to offer!
Zechariah Sample | Athlete | Class of 2024 | Katy Jordan HS
Sample could really take off this summer. He shows flashes of brilliance as a receiver. There were times this past weekend when Sample seemed simply unguardable, especially coming out of the slot position. Sample has a suddenness to his game that allows him to release with ease and he the next level speed that enables him to fly by defenders and he provides a reliable target the quarterback can get the ball to frequently. He also displayed an ability to get downfield and make plays over the top, at one point making a catch in the endzone that could've easily made Sportscenter's Top 10 plays. Right now, he has offers from Arizona State, Tulsa, UNLV, Arkansas State and Jackson State, but that list should climb to double digits before the fall season.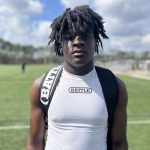 Isaiah Williams | Defensive Back | Class of 2026 | Fort Bend Marshall 
Isaiah Williams is going to be a problem for years to come. Williams has good awareness, he attacks the ball and the physicality he displays at the point of attack is a trait in his game that sticks out at first glance. At 6'1 180 pounds, he has great length with prototypical size, giving him the ability to redirect receivers and he has high level on ball production. Furthermore, William's instincts allow him to be a rangy defender on the back end, covering a large amount of space quickly. He should be due for a breakout sophomore season. Texas Tech was the first to offer here Williams early on but that number should rise heading into the fall.
Tucker Parks | Quarterback | Class of 2024 | Klein Collins
For a player with All-State honors, it's typically uncommon to see a player as decorated as Parks, without an offer heading into his senior season. Put the ball in Tucker's hands and watch him work. He leaves no doubt that he is a top signal caller in his class. This weekend, Parks showed why the ever-elusive first offer will probably come sooner rather than later. He has a good feel for the game and moved the ball effectively all weekend, en route to a championship.
Although a school hasn't pulled the trigger yet, Parks has the traits that college programs covet at the quarterback position at the next level. 
Ashton Hampton | Defensive Back | Class of 2024 | Pearland HS 
Hampton has a knack for finding the football while locked up with receivers in coverage. He was stout in pass coverage and made play after play on the football when it was thrown his way. Hampton is a long, lean prospect who still has room to fill out his frame and he plays at a different speed from his opponent. Hampton has lots of swagger in his game and plays through the hands of receivers. He should continue to see his stock rise in the coming months. After an impressive two-day performance in The Woodlands, Hampton received an offer from Tulane University following the tournament. 
Other notables: 
– Tanook Hines | Class of 2025 | Dekaney HS
– Mason Peterson | Class of 2024 | Dickinson HS
– Chris Grant Jr | Class of 2024 | Klein Collins HS
– Ashton Jones | Class of 2025 | Shadow Creek HS
– Jordan La'Mike | Class of 2024 | Houston Lamar HS
– Demani Maxson | Class of 2024| Clear Lake HS