By: Drew Johnson
Day Two at the Road to the Crown in the Sunshine state of Florida has concluded with more names and notable standouts that deserve proper recognition. The Platform has a goal to continue scouting rising prospects that make a name for themselves while participating in the DR7 seven-on-seven tournaments. National Scout Drew Johnson was in the house to get eyes on talented recruits for coaches and readers. Let's get into some defensive standouts that made noise this week in Fort Pierce, FL.
Armani Sullivan | Class of 25 | 7v7: SlimeyBoyz | Lakewood High
Sullivan was one of my top defensive standouts because of his aggressive mindset at the line of scrimmage that made a few wide receivers reroute or give up on the play. He has strong hands and good coverage skills. Sullivan played tough on both days and showed that if he got beat it was still the next-play mentality. He has dominated the 7v7 circuit on both sides of the ball which gives him an advantage when lining up on an island as a defensive back. The 6'1, 188-pound Lakewood product should generate some interest in his recruitment heading into his junior season.
Clifton Hester |  Class of 2026 | 7v7: 24K | Cocoa High
Hester showed off his long and athletic frame with incredible upside as a freshman defensive back. He has good ball skills and change of direction ability that helps him drive to the ball and be disruptive in pass coverage. The 6'0 Cocoa High product has plenty of time to add weight to his frame and develop the fundamentals of the position. He has already received offers from Marshall and UCF with more to come heading into his sophomore season.
Jaelen Waters | Class of 2026 | 7v7: SlimeyBoyz | Armwood High
The arm length and developed frame of Waters was something that immediately stood out when watching him line up on the outside. He's a reliable defender that had some receivers running out of bounds because he simply ran the route for them. Water displayed advanced soft skills and good defensive IQ for a recruit his age. Look out for the rising 6'1, 170-pound Armwood product to make some more noise this off-season and build some steam around his recruitment.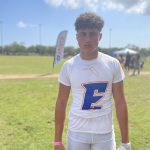 Cole Cooper | Class of 2025 | 7v7: Epic Elite | Spanish River High
Cooper lined up at the linebacker position this weekend but had to make the defensive standout list because of his well-built frame, good speed, and solid coverage skills on both days of the DR7 tournament in Fort Pierce. The 6'1, 190-pound sophomore has the time to add weight and mature more at the position but his overall upside makes him an interesting prospect to get eyes on.
Tate Watson | Class of 2024 | 7v7: Jax Knights | Fletcher High
Watson had an outstanding interception where he came off his receiver and made a good read on the ball which landed his name on the defensive standout list. The 6'3, 165-pound athlete plays the wide receiver position but could be lining up on the defensive side of the ball more this off-season because of his decent IQ and ability to be a playmaker in pass coverage. He also created a few pass deflections because of his long arms.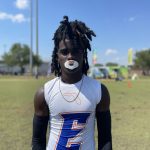 Israel Marion | Class of 25 | 7v7: Epic Elite | Spanish River High
Marion made the list again because of the rising prospect's athletic abilities and overall talent to impact the game as a safety as well. Marion can play on both sides of the ball and will be one of the top names in the area before his senior season.