By: Drew Johnson
Day Two at the Road to the Crown in the Sunshine state of Florida has concluded with more names and notable standouts that deserve proper recognition. The Platform has a goal to continue scouting rising prospects that make a name for themselves while participating in the DR7 seven-on-seven tournaments. National Scout Drew Johnson was in the house to get eyes on talented recruits for coaches and readers. Let's get into some names that made noise this week in Fort Pierce, FL.
Mike Mitchell | Class of 2023 | St. Johns Cobras  
Mitchell was hands down one of the best athletes at the DR7 tournament this weekend in Fort Pierce. The 2023 Utah commit is very explosive with good catching abilities for a running back of his size. What was most impressive was his ability to get upfield after the catch. The 6'0, 210-pound Middleburg product was likely out to get more reps in before heading out and joining a loaded Utah backfield. Just tune into Mitchell's hudl film for incredible running back play.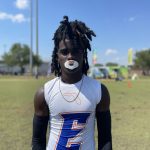 Israel Marion | Class of 2025 | 7v7: Epic Elite | Spanish River
Marion dominated the 15U bracket on both days and was the MVP standout of the tournament because he was simply unguardable, putting on a show. Marion and Epic Elite 2026 quarterback Chance Routson had the best connection of the weekend, completing nearly every throw. Marion is a home run threat in the 7v7 environment and someone that has to be doubled or he'll make an impact in the intermediate game. He will likely be on everyone's radar before the fall high school season.
Derrion McNeal | 2025 | 7v7: SlimeyBoyz | 
McNeal was a really reliable receiver that balled on both days for SlimeyBoyz, helping his team take on the 15U championship. He has decent speed but a more impressive route runner with a good catch radius. He lined up on the inside and outside this weekend and was instrumental in the final game-winning stretch for the trophy.
Payton Dykas | Class of 2024 | 7v7: St. Johns Cobras | Clay High
Dykas is a baller that I watched produce months ago at the Polk County 863Showcase. The Clay High product is a smooth route runner with the speed to stack the defense in the high post or short route game. He had another productive day for the St. John's cobras that earned his name on the list. The rising junior had over 1000 receiving yards for Clay and could be seeing his recruitment take off with more consistent production in the off-season.
Duane Simon | Class of 2026 | SlimeyBoyz | Centennial
Simon displayed really good speed with elusive moves in the open field to make plays happen when needed. He made the game-winning catch to take home the trophy and give his team a bid to the championship in Texas.
Semaj Scott | Class of 2024 | 7v7: KrazyLegz Elite Mustangs
Scott had himself an impressive weekend with a few headtop catches and interceptions on the defensive side of the ball. Scott recorded 1 touchdown and 2 picks with one of them being a pick-six on Day One. He followed up that performance with 2 tough jump ball touchdowns that displayed his catch radius and catching abilities. The four-star running back product is looking to get his name back on the map and prove he's one of the top rising backs in the state of Florida.
Gabriel Avin | Class of 2025 | 7v7: Treasure Coast Elite 
Avin contributed to Treasure CoastElite taking home the 18U trophy in Fort Pierce. He showed off his really good hands and ability to create separation at the line of scrimmage. The 6'1, 195-pound sophomore is strong at the point of catch with good high-point abilities. I'll be paying attention to his overall recruitment and development this off-season to provide updates.
Kewan Smith | Class of 2026 | 7v7: Cobras
Smith was open on every play and displayed the ability to play of both sides of the ball Has an incredible frame with plenty of upside and room to develop his overall game. Another interesting prospect that can play all over the field.
**Weekend Standouts
Kordell Lewis | Class of 2024 | Ri5e
Anthony Vaglienti | Class of 2024 | 7v7: Jax Knights
ZyMarion Lang | Class of 2024 | 7v7: RI5E
Shamar Rigby | Class of 2024 | 7v7: RI5E
Kelvin Davis | Class of 2027 | 7v7: Treasur Coast Elite